Creamy Chowder with Potatoes served Two-Ways
and Crispy Toasted Baguette
Creamy Chowder with Potatoes served Two-Ways
and Crispy Toasted Baguette
After a week of especially cold weather, a hearty soup is the best option to please the whole family. In this creamy chowder featuring delicious leeks, potatoes are used two-ways to provide an interesting texture profile. Witness deep and smoky flavors brought on by beautiful smoked paprika. Approximately 700 calories per serving.
Carrots

Yukon Gold potatoes

Bunch chives

Leeks

Russet potatoes

All-purpose flour

Vegetable demi-glace

Chowder spice blend (paprika, granulated garlic, dried thyme)

Cheddar cheese

Heavy cream

Mini-Baguette
Olive oil
Salt & Pepper
Large pot
Large pan
Sheet pan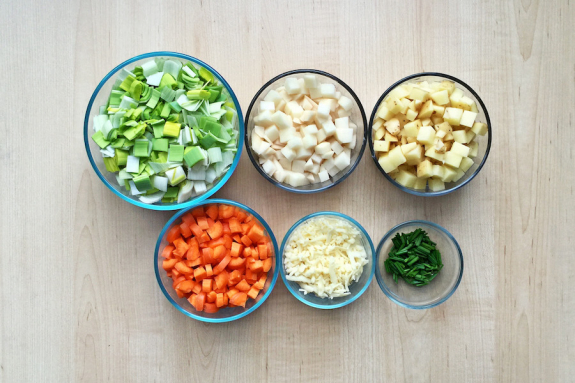 Mise en place
• Preheat the oven to 450°F. Wash and dry the fresh produce.
• Small dice the carrots.
• Halve the leeks lengthwise; thoroughly rinse between the layers with cold water. Small dice the leeks.
• Peel and large dice the russet potato.
• Small dice the Yukon gold potatoes.
• Cut the chives into half-inch pieces.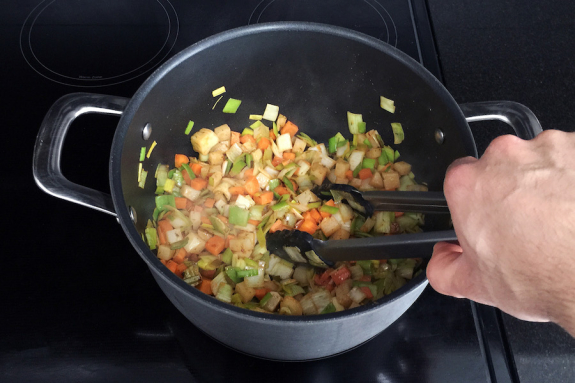 Start the chowder
• In a large pot, heat a drizzle of olive oil on medium-high until hot.
• Add the carrots, leeks, russet potato and spice blend to the hot pan.
• Cook (covered), stirring occasionally, 5 to 7 minutes, or until tender and fragrant.
• Add the flour to the pot of vegetables. Cook, stirring constantly, 30 seconds to 1 minute, or until thoroughly combined.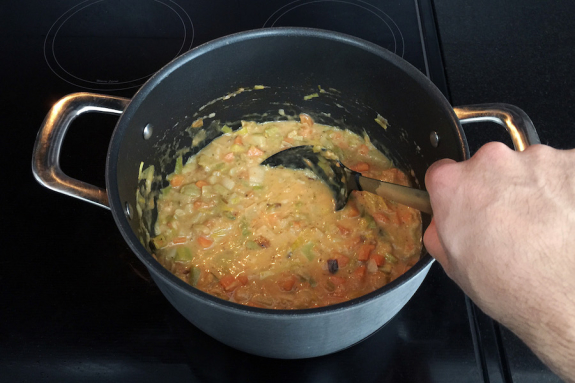 Finish the chowder
• Add three cups of water and bring to a boil on high (double the water for 4 servings). Stir to scrape up any browned bits from the bottom of the pot.
• Add the vegetable demi-glace and heavy cream; season with S&P to taste.
• Reduce the heat to medium; simmer, 11 to 13 minutes, or until the russet potato is tender. Remove from heat.
• Using a potato masher, mash the potato against the bottom of the pot.
• Add half of the chives and season with S&P to taste; stir until well combined.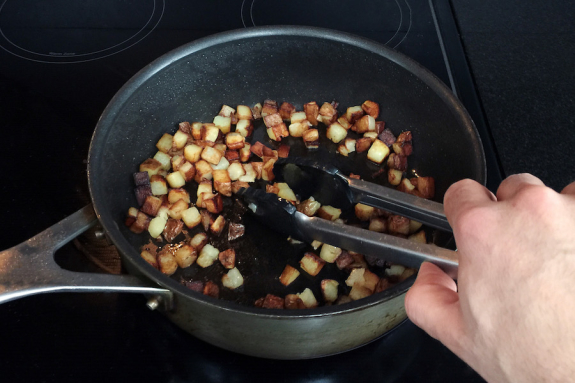 Brown the Yukon gold potatoes
• While the chowder simmers, in a large pan (nonstick, if you have one), heat a thin layer of oil on medium until hot.
• Add the Yukon gold potatoes and cook, stirring frequently, 8 to 10 minutes, or until golden brown and cooked through.
• Transfer to a paper towel-lined plate; season with S&P to taste.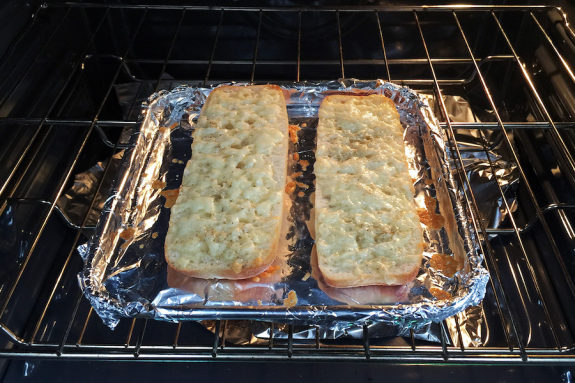 Make the cheddar toast and plate your dish
• Slice the mini-baguette horizontally and place on a sheet pan, cut sides up.
• Top with the cheddar cheese; season with S&P.
• Bake, 6 to 8 minutes, or until the cheese has melted and the baguette is lightly browned.
• For plating, divide the finished chowder between your bowls.
• Serve with the cheddar toast on the side.
• Top with the browned Yukon gold potatoes and garnish with the remaining chives. Bon appétit!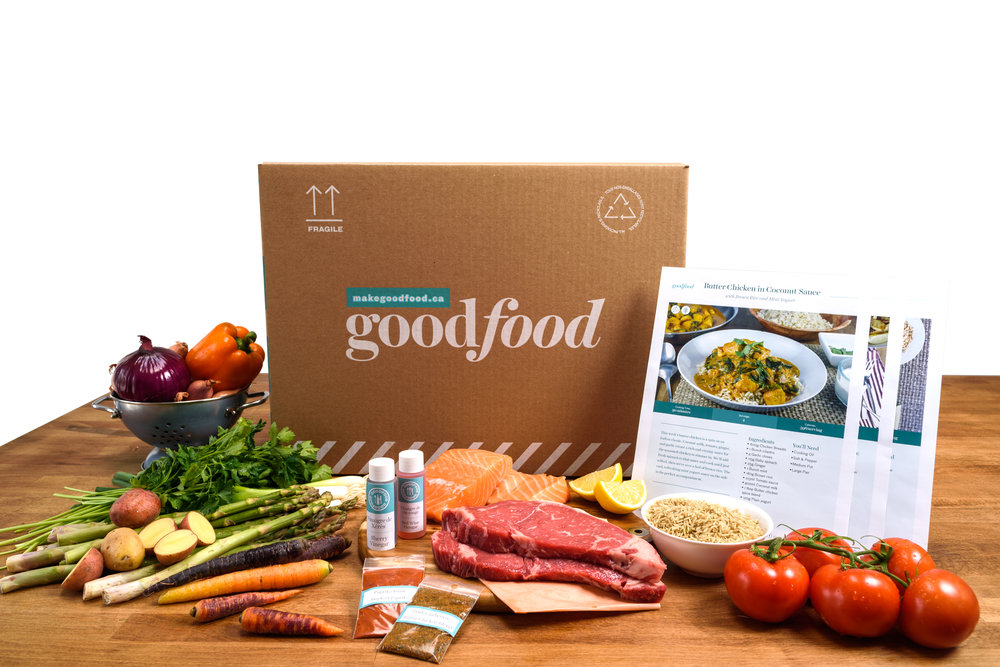 Let's get cooking
Discover a new way to cook with Goodfood: original recipes and the freshest ingredients delivered to your door every week.
Get started for just $4.99