AAA Bone-In Rib Steak for Two with Loaded Baked Potatoes
Lettuce Wedge Salad
AAA Bone-In Rib Steak for Two with Loaded Baked Potatoes
Lettuce Wedge Salad
Date night should be epic. Our AAA bone-in rib steak platter is perfect for those who love their steak flavourful and juicy—full of marrow. No steak is complete without potato, and here you'll load up scooped out tater halves with a buttery sour cream and scallion-potato mix, then bake 'em until these cheese-topped boats turn golden. Crunchy lettuce wedges sprinkled with peppery radish slices serve as the perfect vehicle for a sour cream vinaigrette, and you'll garnish both sides with fried bacon morsels.
22oz AAA Bone-In Beef Rib Steak

2 Bacon slices

450g Potatoes

60g Radishes

2 Scallions

1 Head of lettuce

15ml Apple cider vinegar

86ml Sour cream

25g Parmigiano Reggiano (contains rennet)

10g Zingy Garlic & Chive spice blend (salt, paprika, garlic, vinegar powder, onion, red bell pepper, black pepper, sunflower oil, oregano, parsley, chives)

10g Superior Steak spice blend (garlic salt, garlic, black pepper, mustard, onion, coriander, dill, cayenne pepper)
Contains: Milk, Mustard, Sulphites
Large pan
Sheet pan
Oil
3 or 6 tbsp Butter
Salt & pepper
Parchment paper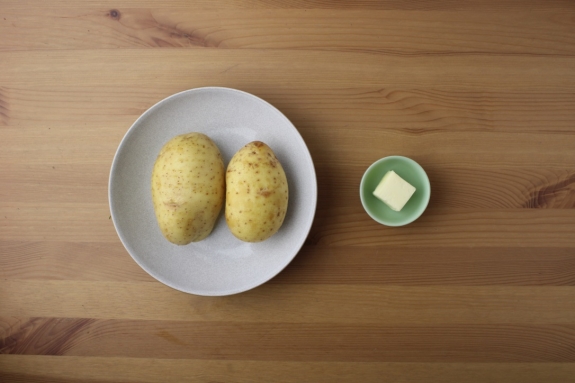 Start the potatoes
Preheat the oven to 450°F. Place 3 tbsp butter (double for 4 portions) in a bowl and leave at room temperature to soften. With a fork, poke 3 to 4 holes on each side of the potatoes. Transfer the potatoes to a microwave-safe bowl or plate; microwave on high, 6 to 8 minutes, or until tender when pierced with a fork. Transfer to a cutting board.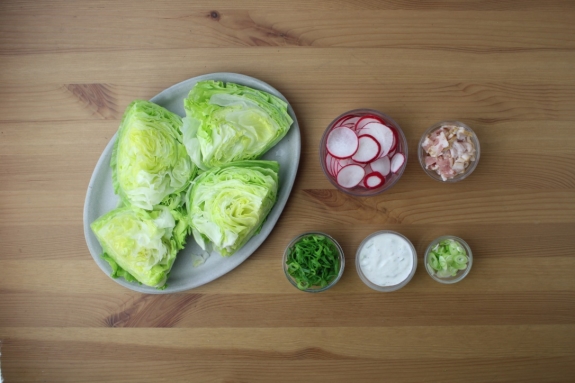 Mise en place
While the potatoes cook, thinly slice the radishes into rounds and place in a bowl of cold water. Cut off and discard the root ends of the scallions; thinly slice, separating the white bottoms and green tops. Quarter the lettuce and place on a small serving platter. Roughly chop the bacon. In a small bowl, make the sour cream vinaigrette by combining ⅔ of the sour cream with ½ the white bottoms of the scallions, as much of the apple cider vinegar as you'd like and 2 tsp water (double for 4 portions); season with S&P to taste.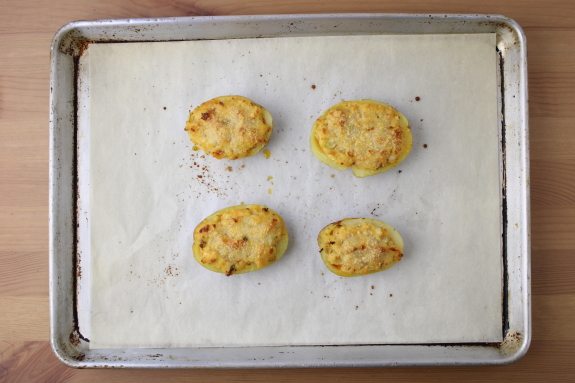 Finish the potatoes
Cut the cooked potatoes in half lengthwise. Scoop out the flesh with a spoon and transfer to a medium bowl. Transfer the potato skins to a lined sheet pan. Lightly mash the potato flesh with a fork, add the softened butter, ⅓ of the Parmigiano Reggiano, the remaining sour cream and white bottoms of the scallions; season with as much of the Zingy Garlic & Chive spice blend as you'd like (start with ½ and adjust to taste) and stir to combine thoroughly. Transfer the potato mixture back into the potato skins. Sprinkle with the remaining Parmigiano Reggiano and bake in the oven, 10 to 12 minutes, until warmed through and the cheese has melted. Set aside in a warm spot.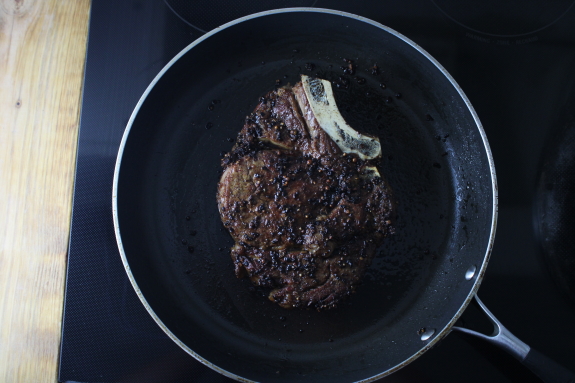 Cook the steak
While the potatoes bake, in a large pan, heat a drizzle of oil on medium-high. Pat the steak dry with paper towel; season with ½ the Superior Steak spice blend and S&P. Add the seasoned steak* to the pan and cook, 5 to 8 minutes per side, or until cooked as desired. Transfer to a cutting board and season with the remaining Superior Steak spice blend. Let rest for at least 5 minutes before serving. Wipe out and reserve the pan.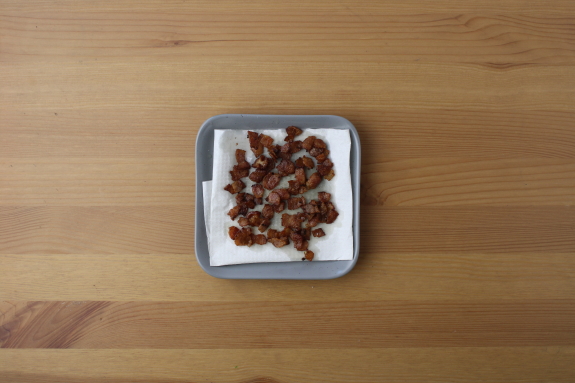 Cook the bacon
In the same pan, heat a drizzle of oil on medium. Add the bacon to the pan and cook, 3 to 5 minutes, until cooked through. Transfer to a plate lined with paper towel and set aside.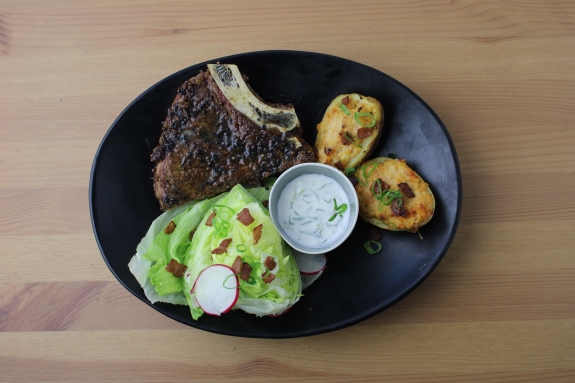 Finish & serve
Divide the lettuce, steak and potatoes between your plates.Top the lettuce with the radishes (thoroughly drain and pat dry with paper towel before adding) and dress with as much sour cream vinaigrette as you'd like. Serve any remaining vinaigrette on the side. Garnish the potatoes and lettuce wedges with as many of the green tops of the scallions as you'd like and divide the bacon between both. Bon appétit!
*Health Canada recommends cooking beef to a minimum internal temperature of 63°C.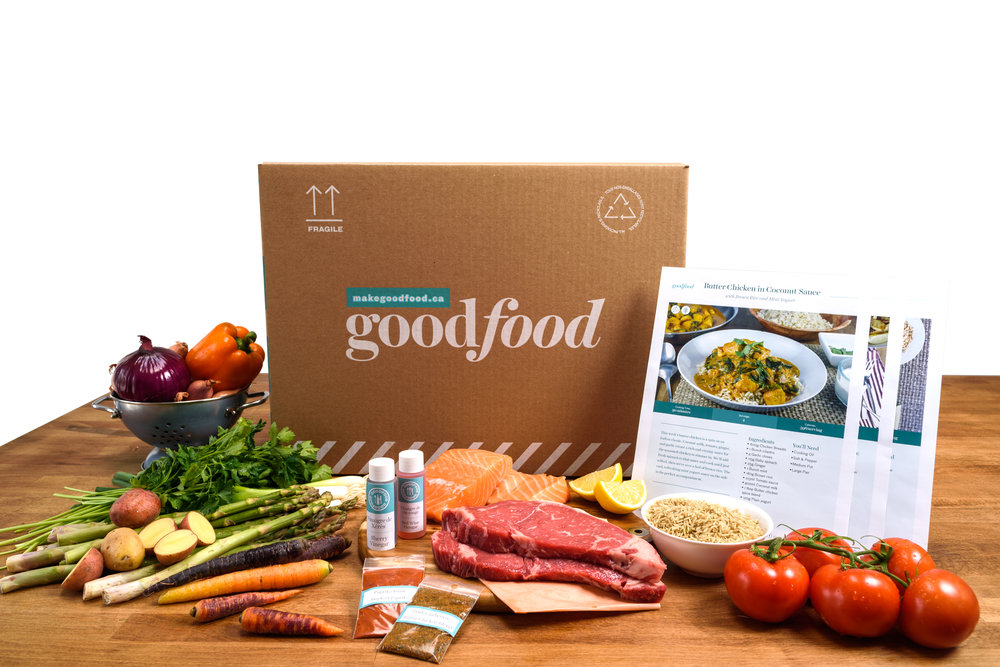 Let's get cooking
Discover a new way to cook with Goodfood: original recipes and the freshest ingredients delivered to your door every week.
Get started for just $4.99